It is already one year ago that Diverse City worked with the amazing Ramps on the Moon to share our learning in inclusive Youth Theatre Training with major theatres across the UK.
Ramps On The Moon brings together a varied group of theatres – Birmingham Repertory Theatre, New Wolsey Ipswich, Nottingham Playhouse, Sheffield Theatres, Stratford East London and Leeds Playhouse – into a thriving consortium. Everyone in the consortium is committed to young D/deaf and disabled people having full access to exploring their creativity and performance potential. Throughout July 2018, Diverse City's youth company, Extraordinary Bodies Young Artists (EBYA), led practical sessions focussed on working with difference – the creative challenges and the artistic possibilities.
As part of our mission to increase equality in the performing arts, we want to share our experience and learning with the wider sector. One year on from our work with Ramps On The Moon, we are sharing our Evaluation Report.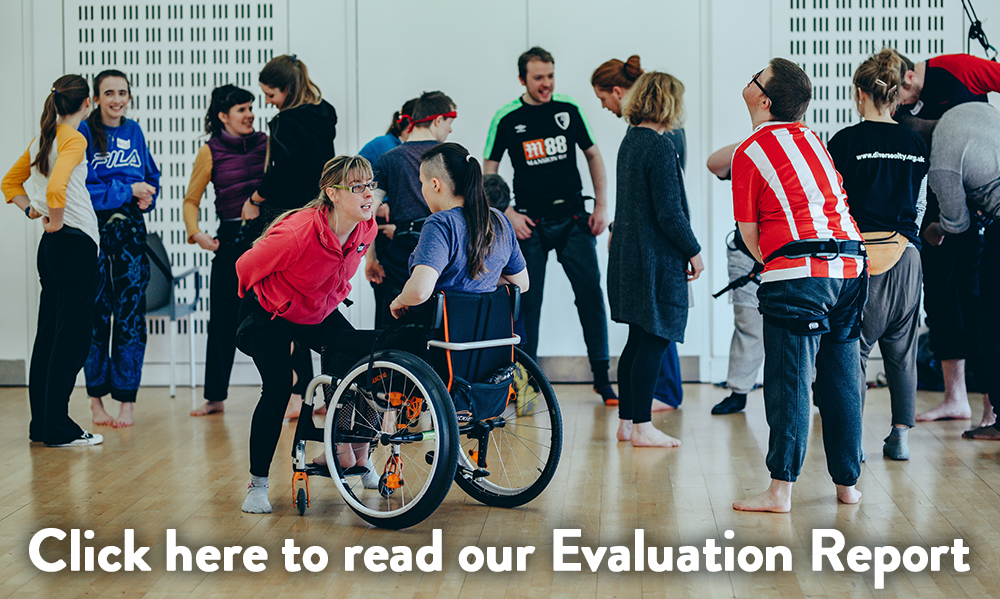 47 participants joined Diverse City in 3 sessions across the 6 UK theatres. The experience was a brilliant way to strengthen relationships with venues and start to build long term positive impact for young people regionally – this month, EBYA will work again with New Wolsey's Youth Company on the inclusive rehearsal room. Comments from last year's training include:
"This collective experience has brought new approaches to breaking down barriers to the forefront strategically as well as on the ground for our practitioners"
"A great introduction to thinking about accessibility requirements in the theatre that gives you more confidence in delivering accessible sessions and holding conversations with management"
"Fantastic, approachable company – fun, energetic and informative. An enjoyable day with learning and development at its heart"
We are currently offering two different courses for those employed in the performing arts, whether you are working on stage, back stage or off stage. Both courses come together towards the end of the second day alongside additional participants to network, share learning and pledge actions.
Where? Poole High School, Wimborne Rd, Poole BH15 2BW
When? Tuesday 29th October, 11am – 6pm and Wednesday 30th of October 10am – 5pm